Wichita East High School


Class Of 1962
In Memory
Brian Archer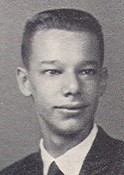 Obituary
Brian K. Archer (1944 - 2011)
Brian's last breath was taken Friday afternoon, November 4, 2011, at Shands Hospital in Gainesville, FL, after a long battle with leukemia. His first was taken in Wichita, Kansas, on December 29, 1944, where he grew up.

Brian was a Distinguished ROTC Graduate, serving 4 years as an Air Force Officer and 30-plus more years as an Aeronautical Engineer and Special Projects Manager with the U.S. Air Force for major weapon systems for the Department of Defense. He always brought excellence, intelligence, integrity, humor, commitment, and compassion to every aspect of his life and to all who knew him.

He looked forward to and enjoyed boating after retirement, but took the most pleasure and joy in working with wildlife and wildlife ambassadors, talking about animals, nature, and wildlands with various people in various settings, including Harry Potter movie openings while holding his favorite Great Horned Owl, "Owliver".

He was preceded in death by his father, Lyle; and is survived by wife, Linda; brother, Gary; mother, Marguerite; many loving nieces, nephews, other family and many "friend-family" members.

All are invited to a Memorial Service set for Saturday, November 12, 2011, at 10:30 AM, at Suntree United Methodist Church, 7400 N. Wickham Road, Melbourne, FL 32940.

Remembrances, in lieu of flowers, may be made to the Florida Wildlife Hospital, 4560 North U.S. Hwy 1, Melbourne, FL 32935; the Sea Turtle Preservation Society (STPS), P.O. Box 510988, Melbourne Beach, FL 32951; or the Gospel Mission, Inc., P.O. Box 1141, Dayton, OH 45401.