Wichita East High School


Class Of 1962
In Memory
E. James Layton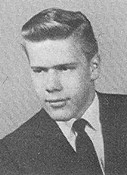 Published 3-1-11
The Enid News and Eagle Mon Feb 28, 2011
ENID — Lt. Col. Eldon J. "Jim" Layton, born Sept. 4, 1944, in Wichita, Kan., to Archie C. and Vivian Layton and passed away Saturday, Feb. 26, 2011.

After 23 years in the Air Force, he enjoyed his passion for city government in several communities in Oklahoma and Texas.

He is survived by wife, Mary Jo; daughter, Laura Underwood and husband George and their daughters Ainsley and Addison; and son, Dr. Cliff Layton and wife Keri.

Visitation will be 6-8 p.m. today, March 1, 2011, at Smith & Turner Mortuary, 201 E. Main, Yukon, Okla. Graveside service with military honors will be 2 p.m. Wednesday, March 2, 2011, in Yukon Cemetery.